When you visit DoubleDown Casino, you'll automatically start on the What's Hot tab. You can access different areas of the casino through the tabs on the left-hand side of your screen.
| | | |
| --- | --- | --- |
| | | A list of the hottest and newest slots available in DoubleDown Casino |
| | | Go directly to the custom lobby of slots that you have chosen as favorites for quick access |
| | | All available slots in DoubleDown Casino, shown alphabetically |
| | | Open the store to stock up on chips |
| | | To find Blackjack, Roulette, and Video Poker, scroll to the right in the What's Hot lobby and tap this tile. |
* Please note, features may vary by platform.
Choose a slot to play. You can learn more about the slot by viewing its paytable.
| | | |
| --- | --- | --- |
| | | If you are using an iOS device & have not previously played a slot, you will see an icon in the lower left corner of the slot's logo, indicating that you will need to download that slot. |
| | | Tap the slot's logo to initiate the download. Afterward, you will not need to complete this step again to play that slot. |
Please note: A Wi-Fi connection is recommended for downloads larger than 50 MB.
Upon selecting your slot, you may be prompted to choose your starting bet level. If you don't see an option that suits you, don't worry! You can adjust the bet manually before spinning. Choose the option that best matches your preferred bet level to enter the slot.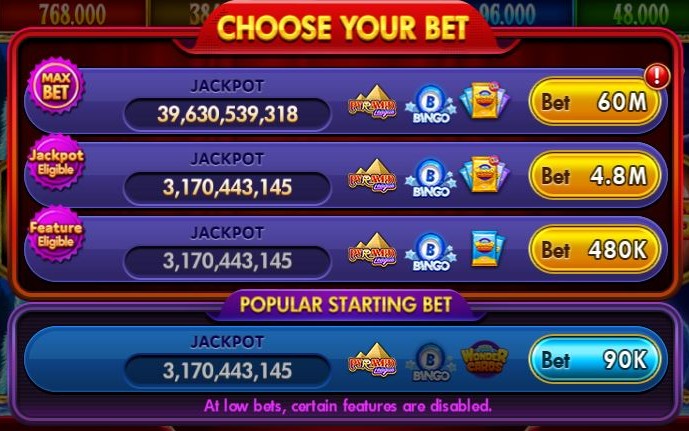 If you did not encounter the bet selection pop-up, be sure to check your bet level before spinning. It typically defaults to the last-played option, and that may be higher or lower than you prefer.
Most slots at DoubleDown will default to playing on all available lines, but on some slots, you can adjust the number of paylines:
| | |
| --- | --- |
| | Tap to view the options and set your active paylines. |
| | Slots which use a ways structure instead of paylines may allow you to play with fewer than the max ways to win. |
| | Tap to view the options and select the bet per active payline/way. |
| | Use the + and - buttons to adjust the number of active paylines and associated line bet. |
The Total Bet will be displayed beside the Spin button.
Adjust your bet selections between spins as desired. Feeling lucky? You might choose to increase your bet. Want to conserve your chips? Lower your bet and/or the number of lines.
Some slots have a button labeled MAX BET. It will automatically set your bet level to the highest available option. If you tap it accidentally, make sure to lower your bet again before spinning!
Once you have set your preferred total bet (or line bet and number of lines to play), take a spin!
The Spin button may be the word or a symbol.

The Auto-Spin button may be a word or a symbol.

On some slots, Spin and Auto-Spin share a button.

Tap to spin once; press and hold to activate Auto-Spin.

While Auto-Spin is active, press and hold to cancel.
Note: Android devices running Android OS 4.4.4 or below are not fully compatible with the current version of our app and may not see certain features. In addition, future features will also require Android OS 5.0 or higher. If possible, try updating to a newer Android OS.