If you use Google Chrome and are experiencing a black screen when attempting to load DoubleDown Casino, please follow the steps below:
When using Google Chrome, highlight the following line and copy it by pressing CTRL+C (Windows) or CMD+C (Macintosh):
chrome://settings/content/cookies
Open a new tab by clicking the small parallelogram next to your current tab at the top of your browser.

Paste that line into your address bar by pressing CTRL+V (Windows) or CMD+V (Macintosh), and press ENTER or RETURN on your keyboard.

On the new page that opens up, scroll to the bottom of the screen where it says Allow and click Add.

Highlight and copy the following line:
[*.]doubledowncasino2.com
Paste it into the new window (make sure there are no extra spaces before or after the line) and click Add.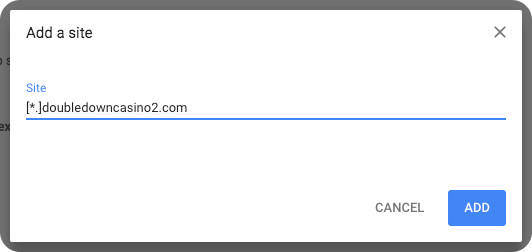 Now try to load DoubleDown Casino on Facebook or on DoubleDownCasino.com, wherever you normally play, and the page should load. If it does not, you may need to close and restart Google Chrome or restart your computer for the changes to take effect.