DoubleDown Gold is a currency which can be used to purchase chips in DoubleDown Casino and receive up to 7% increased value on the chip package.
To purchase DoubleDown Gold, visit the DoubleDown Gift Shop.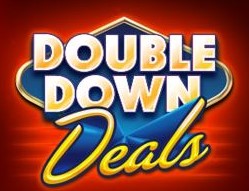 Your DoubleDown Gold will be delivered via email. Make sure to redeem your Gold on the DoubleDown Casino account that will be using the Gold; if you have more than one DoubleDown Casino player account associated with your device, be sure to log in to the desired account before clicking to redeem from within the email.
Once you have redeemed your DoubleDown Gold, it will be available to you in the DoubleDown Casino chip store. You can view your balance there and use the Gold for purchasing chips.
DoubleDown Gold and real money cannot be used in combination to complete a single purchase. If your DoubleDown Gold balance is insufficient to complete your desired purchase, you would need to add more Gold to your balance or use a different payment method.
You will find a direct link to DoubleDown Deals along the top of the login screen for doubledowncasino.com.